1. They claim to remove spyware, but actually install it (and usually charge you for their product!)
2. They've stolen their code from another vendor (most notably, from Spybot S&D. This is somewhat funny, as Spybot S&D is no longer, in my opinion, a very effective product). These are some of the most annoying programs since they will constantly pop up warnings about your "infection" encouraging you to purchase their protection, while they are actually what you need to be protected from! Often you will find you cannot even surf the internet at all since they will constantly re-route you to their website, hoping you will give them your credit card information.
Although your problem could actually be caused by viruses or spyware, we are seeing a predominant number of computers infected with rogue adware. If you see pop ups that look similar to these images, you probably are infected with a rogue adware program yourself: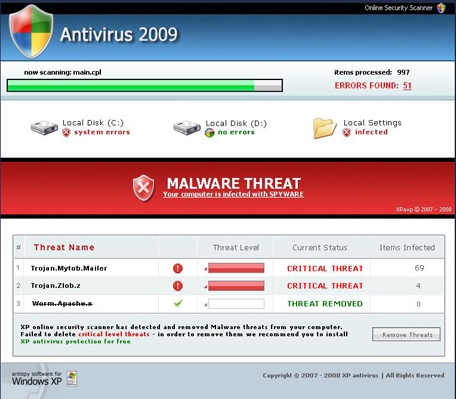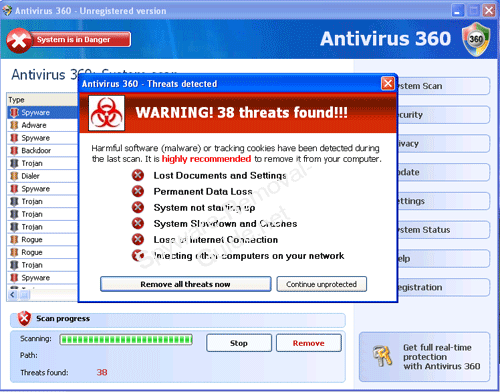 The name displayed by the program might be different (i.e., Antivirus 2007, Antivirus 2008, Antivirus XP, Antivirus 360, etc.) but they are all pretty much the same infection. They all look very legitimate and will appear to actually be scanning your system while displaying the results of dozens or even hundreds of infections. If you see this type of pop up on your computer, don't panic. It doesn't matter what button you click or what you may have already done. No matter what you do, your computer is already infected. This happens because you do not have adequate protection software installed or it has not been updated daily. Since there are several hundred new viruses and spyware programs introduced every month, keeping your protection up to date is critical! And you must also download and install all critical Microsoft security updates every day.
Once the malware is installed and running on your system, it will usually prevent you from installing any new anti-malware software, updating any anti-malware program you already have installed, or navigating to any website where you can perform an online scan. If you still want to try to resolve the problem yourself, you can try to run a free online malware scan using any or all of the links below.