- Surge Protectors -
(Battery Backups)
A power surge (a sudden increase in voltage above normal levels) can cause severe damage to your computer and peripherals and could render your PC inoperable! While most of us think of a power surge associated with a lightning storm, they can also be caused by faulty wiring, use of heavy electrical equipment in your home, or problems with utility company equipment.
You should be aware that the only truly safe way to protect your equipment during a lightning storm is to unplug ALL the wires that connect your computer to the electrical wall outlet, telephone outlet and/or cable wire. Any of the UPS (Uninterruptible Power Supply) devices pictured below will provide adequate protection in most situations but even they will fail if the voltage spike is high enough.
The primary difference between a surge protector and a UPS is the UPS's ability to keep your computer running during a power outage so you have time to power it down normally without risking loss of data. A good surge protector will provide an equal level of surge protection, but will cost as much as a UPS, so why not go ahead and buy the UPS?


Typical Surge Protector


Typical UPS


Inexpensive surge protector: do not use!
A surge protector's effectiveness is measured by its ability to do two things well:

1) Divert the power surge to ground; while the inexpensive surge protectors (as pictured above) will provide some level of protection, they simply cannot divert the power spike quickly enough. This diversion must take place in milliseconds or your equipment will be damaged.

2) Survive the power spike with no damage to the surge protector itself; this is what is referred to as the "joule rating". In general, the higher the joule rating, the higher the voltage spike the protector will handle without damage to itself.
The other rating number you will see on the UPS retail package is volt-amperes. Stated simply, this is a measure of the UPS's ability to keep your computer running during a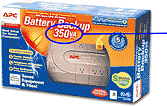 power outage. The least expensive units will be rated at 350va and the prices increase as this number goes up. The advertised run time is only an estimate since it is totally dependent on the number and type of devices you have connected to the UPS at the time of the power outage. Even the least expensive units will keep your computer running long enough for you to power it down normally. If you are running a computer that uses Windows 98 or higher, the UPS can be connected to your computer using a serial or USB cable (included free). You can then install the software that is shipped with the UPS to monitor and manage the power supply, and the program will even close all open programs and properly power down your system before the battery runs down completely during a power outage.
For more technical information about surge protectors and how they work, click here.
Before you buy a UPS, please note the following important points:
If you are only connecting a single computer, the 350va models pictured above will be sufficient. If you are connecting more than one computer, you will probably need to move up to a 500va model, or even higher for more connections. Don't expect the backup to keep your system up for more than a few minutes unless you purchase one of the expensive models. Those pictured above will probably retain your system power for 5-10 minutes.

When you purchase a UPS, you will probably need to open the back panel and connect the internal battery cable to the battery. They are usually shipped disconnected to prevent damage to the battery.

If you purchase a Belkin UPS and don't take the time to read the instructions, you will probably think the unit is defective since it will not turn on when you press the power button. You have to press and HOLD the power button for at least several seconds to turn it on or off.

If you have a phone cord connected to your computer, it MUST be routed through the UPS! Be sure to purchase a UPS that has RJ11 (phone) jacks for this purpose.

If you use a cable modem to connect to the internet, you should purchase a UPS that has a coax cable connection to enable surge protection for your cable modem and your computer.

Both UPS models pictured above have two different types of power outlets on their top face labeled "Battery Backup" and "Surge Protection". Be sure to plug your computer power cord and monitor power cord into the outlets labeled "Battery Backup". Other devices that draw lots of current (like your printer, copier, fax machine, scanner, etc.) should be plugged into the side labeled "Surge Protection". This will provide surge protection for those devices but will lessen the drain on the batteries during a power outage, giving you more time to power down your computer.

If your UPS beeps occasionally after it is installed and fully charged, it is probably due to "brownouts". This is caused by a heavy drain on your electrical supply system when power hungry devices are powered on. And it doesn't have to be a power hungry device in your own home or office; it can be caused by a device anywhere on your circuit, or it can be an indication of a wiring problem.

This article has referred to inexpensive "standby" UPS's for use on workstations only. If you need to provide backup power for a server or similar situation, you will need to purchase a "line interactive" or "online" UPS. These units cost several hundred dollars, but are designed to help maintain your power during brownouts and outages of all types. Click here for an example.

If you would like to print a picture of the UPS's shown above, click here.
Pictured below are two of the least expensive UPS units and they are readily available from your local office supply or computer store. Click on a link to go directly to the retail supplier's website for that product.


APC Back-UPS ES 350 (click here for printable page)

Fry's | Office Depot | Staples | Circuit City | CompUSA | Best Buy | eCost.com | Office Max | TigerDirect

Belkin UPS 350va (click here for printable page)

Office Depot | eCost.com | TigerDirect

Don't forget to consider other expensive electronic equipment in your home or office that might need similar protection from voltage spikes. Items such as televisions, stereo tuners, VCR's, DVD players, etc. can also be protected by these devices. While protecting your computer data is always important, the actual replacement cost of your computer may be much lower than your new HD TV! If you can't sleep during a thunderstorm for fear your digital alarm will start blinking and not wake you up on time for work, a UPS might be just what you need in your bedroom, too!
If you have questions or need assistance, call 214-773-7377 or send me an email.
03/10/2008